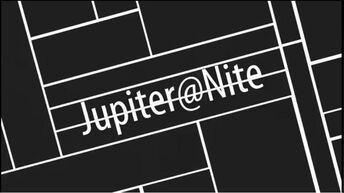 Jupiter@Nite is a nightly show that is recorded and broadcast live Tuesday through Thursday evenings. It features
Chris
,
Jeremy
, and
Alan
as regular hosts but also features
John
and
Mars_Base
on occasion.
Bryan and Angela have also made appearances as guest hosts on the show.
Jupiter@Nite has no set subject and instead draws its theme from current events with an emphasis on science and technology.
Jupiter@Nite is the shortest show on the network with most episodes being slightly less than twenty minutes long. With the shorter episode length Jupiter@Nite lacks the different segments that have come to define some of the other shows.
Jupiter@Nite first began airing in early June 2010 in a series of 9 beta episodes and an additional pilot episode. In the beginning, J@N - as it is often abbreviated - aired Monday through Thursday, but the Monday show was eventually cut.
In addition to Jupiter@Nite's standard fare there have been two special episodes featuring the Linux Action Show's Bryan Lunduke focusing on dick and fart jokes, a game show episode, and a series of space themed episodes (Space Wednesdays) feauturing Jupiter Broadcasting fan Mars_Base.
On June 23rd 2011, Jupiter@Nite was relaunched after a brief hiatus with a new format, which incoroprates elements from Jupiter Broadcasting's previous shows CastaBlasta, Beer is Tasty and Joint Failures. The first episode of this relaunch was titled "Jupiter@Nite 2.0" and numbered as episode 200 (presumably to distinguish it from previous shows - on June 23rd 2011 there were only 133 actual episodes that had been previously produced, not including the betas).
"Jupiter@Nite 2.0" featured Bryan, Jeremy, John and Chris giving their views on various upcoming movies and TV shows in a style reminiscent of CastaBlasta; while also giving a shoutout to Mirror Pond Pale Ale by Deschutes Brewery as they would do during an episode of Beer Is Tasty; and then highlighting a random news topic (Japanese scientists resequencing human feces into meat) as they would do in the previous Jupter@Nite format. This episode had a running time of approximately 54 minutes.
After the 211th episode the show was canceled with no reboot in sight.
See List of Jupiter@Nite Episodes
External Links
Edit
Community content is available under
CC-BY-SA
unless otherwise noted.