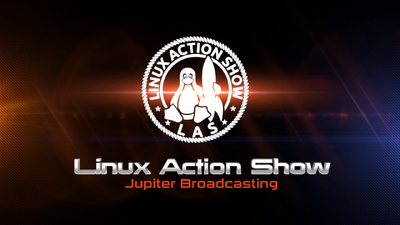 The worlds #1 Linux podcast. A weekly show that covers the best in the open source and Linux world. Get a solid dose of Linux, gadgets, howto, reviews, and news every week!
The show is hosted by Chris Fisher and Matt Hartley.
The show starts off with a few picks-of-the-week (runs Linux, Android app pick, and a Linux app pick). After a small musical bumper, a news segment starts that covers all of the latest news and announcements from the FOSS world, often fueled by /r/LinuxActionShow. After the news segment the hosts enter the feature segment which has reviews, previews, or just discussion about the biggest news or controversy in the linux world.
The Linux Action Show is currently the longest running show on the network and as such is often referred to as the 'Big Show'. The show predates the formation of Jupiter Broadcasting. Originally an audio-only show, it has since grown to have both an audio and a video version. For two seasons the show's title was changed to "The Computer Action Show!".
The show used to be hosted by Bryan Lunduke and Chris Fisher with occasional guest hosting by TechSNAP's Allan Jude.
Mid-season 18, Bryan took a sabbatical and Allan became the new co-host of the show, which altered the show stylistically. One of the most noticeable visual changes was the use of a virtual studio set to compliment Allan's remote hosting via Skype. Allan continued to be a regular host through season 19 until Bryan returned in Season 20.
Mid-season 22, Bryan decided to stop with LAS, and focus on other activities, and for a few episodes the intro read: "Chris & guests". From season 23 on, Matt Hartley has joined Chris as the co-host.
See List of Linux Action Show Episodes.
Picks of the week
Edit
The show has a segment where the hosts give their picks of the week, in three different categories, Android apps, Linux apps and a random Linux Distro from Distrowatch.com.
External Links
Edit
Community content is available under
CC-BY-SA
unless otherwise noted.